2017 TNAPPA Conference
University of Tennessee, Knoxville
May 16 & 17, 2017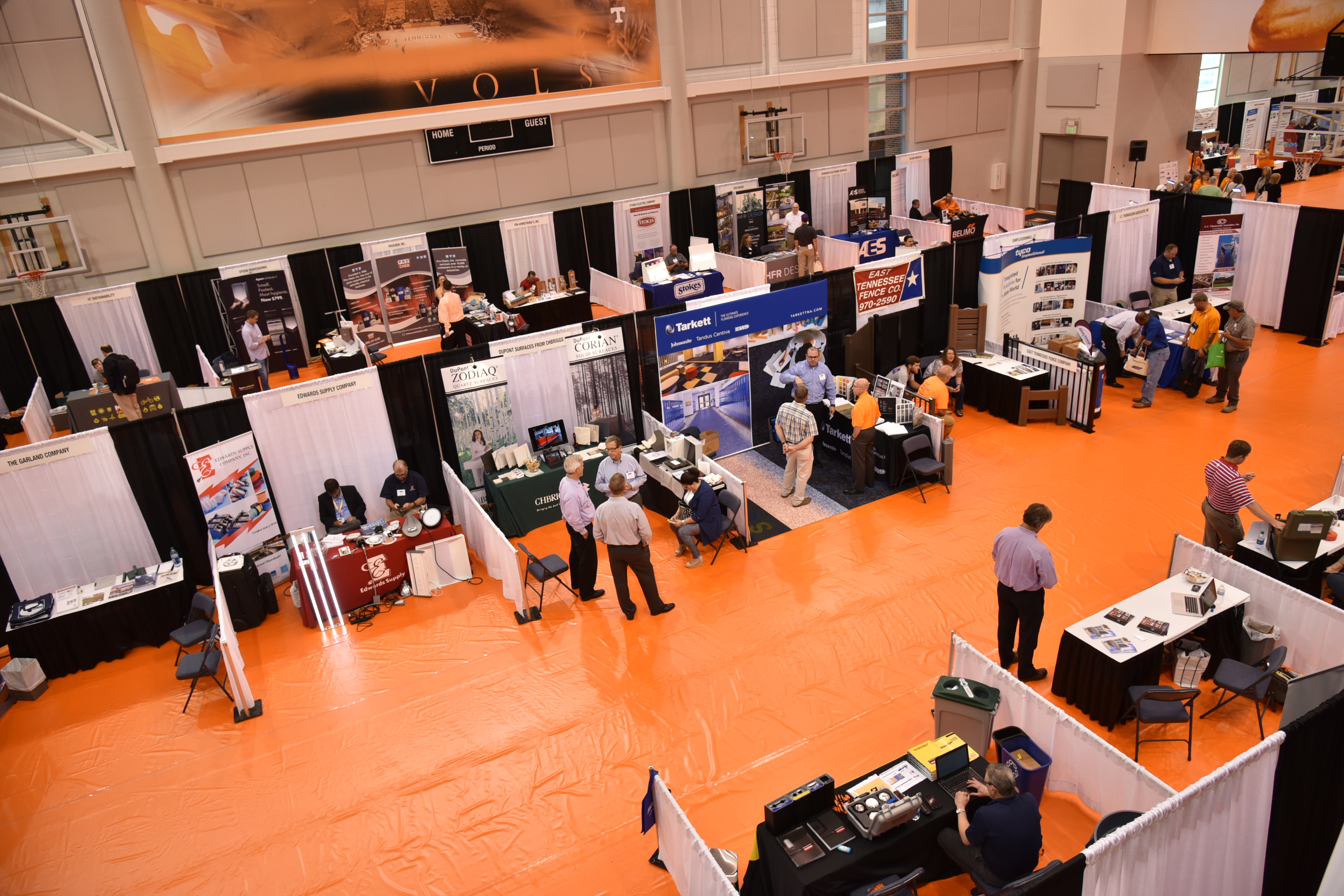 "Opportunities for Excellence"
 May 15 & 16, 2017
Hosted by
University of Tennessee, Knoxville

The 28th Annual TNAPPA Conference was held May 15 & 16, 2017, on the University of Tennessee, Knoxville Campus.
Golfers participated in the 2017 Golf Tournament held at Dead Horse Lake Golf Course on Monday morning.
The Hall of Resources also opened Monday and featured 72 different booths. Sponsors for the event included gold sponsors Cintas and BELFOR, silver sponsors I.C. Thomasson Associates, Inc., Simplex Grinnell and American Paper & Twine, and bronze sponsors Elliott's Boots and Shoes, Sightlines, Ross/Fowler, Daikin with Hoffman & Hoffman Inc., Scott Laboratory Solutions, Armstrong, BARBER McMURRY architects, General Shale, Contract Furniture Alliance, ch2m, Trane, Club Car, and Nashville Office Interiors.
Guided tours of the new Facilities Services Complex, Neyland Stadium and Strong Hall were given to interested conference participants by UT Facilities Services employees on Monday.
An APPA group exam was held the first day of the conference where several individuals took the Credentialing Exam at the Facilities Services Complex.
The TNAPPA business and board meeting were held on Monday in the second floor lounge area of Pratt Pavilion.
The Welcome Dinner was hosted at UT Garden and featured live music provided by Handsome and the Humbles, BBQ, a photo booth, yard games and prize giveaways for the participants.
Tuesday participants were able to take a look at Stokely Family Residence Hall, UT's newest housing facility. Both breakfast and lunch were served in the hall's dining facility.
The Hall of Resources was again open to participants and more than 130 prizes were raffled off for participants and vendors alike. This year's grand prize was a 60-inch flat screen TV.
More guided tours were offered on Tuesday including the second Facilities Services Complex tour and a tour of the newly converted UT Steam Plant.
The 2017 keynote speaker at Alumni Memorial Building was Dr. William Bass, Ph.D.; D-ABFA, professor emeritus at UT Knoxville.
Dr. Bass is a world renowned speaker in the field of Forensic Anthropology, best known for his research on human osteology and human decomposition. He has also assisted federal, local and non-U.S.  authorities in the identification of human remains. He taught at the University of Tennessee in Knoxville, and though currently retired from teaching, still plays and active research role at the University of Tennessee Anthropological Research Facility, which he founded.
The facility, better known as "The Body Farm," as named used by crime author Patricia Cornwell in a novel of the same name which drew inspiration from Dr. Bass and his work.
Conference Educational Breakout sessions followed Dr. Bass and were held in the Haslam Business Building. Participants had a wide variety of topics to choose from during three session times.
Session One: Communications, Can You Listen! presented by Tom Jones, Clemson University; Sightlines presented by James Ireland, Regional Account Manager, Sightlines LLC and Michael Gardner, Director of Physical Plant Sciences, Sewanee; How to Secure a $35 Million Storm Settlement presented by Michael Vitale, Director, ICC Thermal Mapping and Surveying; Improving Commercial Mower Safety: Foldable Rollover Protection Systems presented by Dr. Paul Ayers, Professor of Biosystems Engineering at UT Knoxville; Risk or Reward? Why do people take chances? presented by David Lynn, Peak Safety Performance; GIS Applications at UTC presented by Lisa Darger, Sustainability Coordinator at UT Chattanooga.
Session Two: EFP and CEEP – Why APPA Credentialing Matters presented by Kelly Ostergrant, APPA Credentialing Coordinator; Hydrovac Applications in the Campus Setting presented by Business Development Manager, Badger Daylighting Inc. and David Crigger, Project Manager at UT Facilities Services; Defining Quality in Construction presented by Hans Dietrich Faulhaber, Staff Architect at UT Facilities Planning; Knowing Your Tree Population: Making a Tree Inventory Work for You presented by Sam Adams, Arborist at UT Knoxville Facilities Services and Kasey Krouse, Urban Forester for the City of Knoxville; Lessons Learned – 2016 Fatal Accidents presented by Steve Hawkins, Administrator, TOSHA; Utilizing BIM for Visualization and Facilities Management presented by Jeremy Nichols, BIM Manager, Michael Brady, Inc.
Session Three: APPA – The Emerging Professionals presented by Gerald Grimes, Director of Building Services, MTSU and Secretary/Treasurer of TNAPPA; How to Recognize and Eliminate the Adverse Effects of Low ΔT on Your Building's HVAC System presented by Steve Rybka, Regional Application Consultant, Belimo Inc. and Wally Beets, General Superintendent of Air Conditioning Services for UT Knoxville Facilities Services; MS4 Stormwater Best Practices presented by Garrett Ferry, Stormwater Coordinator for UT Knoxville Facilities Services and Shelia Knight, Environmental Engineer at MTSU; Turf Talk presented by Dr. John Sorochan, Professor of Turfgrass Science and Management at UTIA SU; Shedding Light on Nightime Work presented by Mike Pfefferle, Sales Representative for JDF Associates; Drones in Emergency Response: Improving Communications presented by Matthew Young, student in finance and entrepreneurship and cyber security at UT Knoxville and founder of Sparrow Drones.
Tuesday then wrapped up with the TNAPPA closing banquet at the Knoxville Museum of Art where guests were invited to view three galleries featuring local artists. Live music was presented by The Coveralls.
The conference officially wrapped up Wednesday with a brief morning meeting, Best Practices in Tennessee Educational Facilities Management, held at the Facilities Services Complex.
The 2018 TNAPPA Conference will be held on the campus of UT Chattanooga.
2017 Hall of Resources Pictures
---
2015 TNAPPA Conference
Middle Tennessee State University
May 12-13, 2015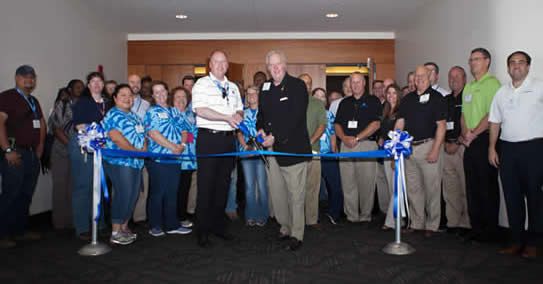 "Pride and Performance"
 May 12-13, 2015
Hosted by
Middle Tennessee State University
The 27th Annual TNAPPA Conference was held on May 12 & 13, 2015 on the Middle Tennessee State University campus.  Forty-six golfers enjoyed a beautiful sunny day at Old Fort Golf Course competing for a chance to win several exciting trips, lots of gift certificates to the pro-shop and $10,000! That afternoon fifty-two (52) exhibit booths filled the ballroom, selling out the venue and everyone watched as David Gray, TNAPPA President and Dean Hansen, TNAPPA 1st Vice President cut the ribbon, to officially open the Hall of Resources.
Several took part in the MTSU Scavenger hunt. This provided a walking tour of campus and a chance to win a gift card by taking selfies in front of marked buildings on campus. SSC sponsored the Welcome Dinner which included a colorful Mexican fiesta meal. The evening Trivia Contest as a success with two tables winning beautiful prize baskets full of Tennessee products.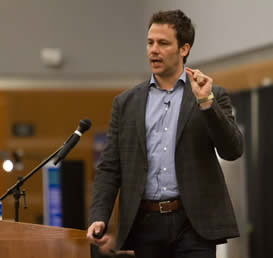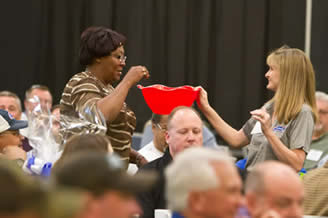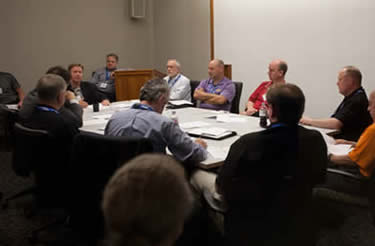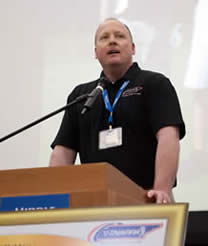 Wednesday morning started off with a hearty breakfast buffet and a warm welcome from David Gray, TNAPPA President and John W. Cothern, Senior Vice President of Business and Finance for MTSU.  Everyone enjoyed hearing Ryan Estis explain how to Unleash Your Inner Superhero during the Plenary Session.  He captivated the audience with his entertaining and heartwarming stories about customer service.  There were lots of decisions to make with 15 educational sessions being held.  Dave Maharry, SRAPPA's President Elect spoke about the upcoming SRAPPA Conference being held in Baton Rouge, Louisiana at the Louisiana State University Campus.
Several conference attendees were selected to help out as characters which added mystery to the evening.  Inside the action started with a murder.  (not a real murder, though!) Each table was became a team and started their investigations. After a delightful dinner, everyone submitted their best guess as to who they thought was the murdered. After deliberation, only one table solved the murder mystery.  The murder was none other than our very own TNAPPA Secretary/Treasurer, Gerald Grimes who played "Eric". What a great time and a different twist to a TNAPPA Banquet. One we will soon not forget.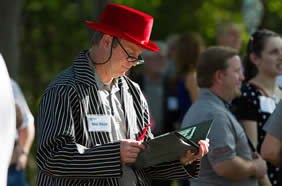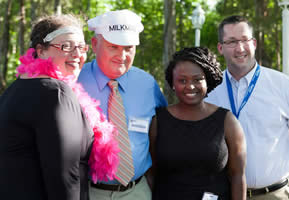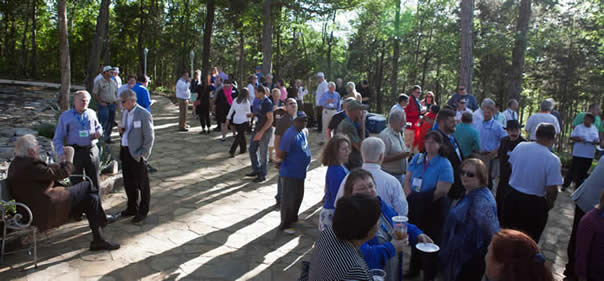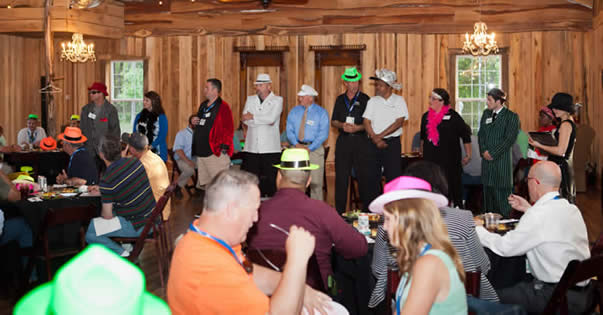 Thank you to MTSU for hosting this year's conference! A special thank you to our business parnters for helping make this year's conference a success!
We look forward to seeing everyone again in Memphis on May 17 and 18th, 2016
To view and order pictures from the 2015 TNAPPA Conference, visit the link below!
https://tnappa2015conference.shutterfly.com/
---
2014 TNAPPA CONFERENCE
Tennessee Technological University
May 13-14, 2014
The 26th Annual TNAPPA Conference and Business Partner/Vendor Show was hosted by Tennessee Technological University in Cookeville, Tennessee. TNAPPA President, Jack Butler put together an outstanding team who worked very hard to make this event a top notch conference.
The Attendees and Business Partners had a choice between participating in a Golf Tournament or a Skeet & Trap Tournament on Tuesday, May 14, 2014.  There were 34 registered for golf and 6 for skeet & trap and everyone had a great, beautiful day of fun!   The evening started off with corn hole games, croquet, people playing horse shoes and other fun games.  Everyone enjoyed a wonderful picnic with southern barbecue and fried chicken and all the trimmings.  The rain stayed far enough away that we didn't get wet, but it was to risky for the hot air balloon to make any trips.  The live band and live auction with TNAPPA bucks kept everyone entertained and we all had a fantastic evening.
The Conference Committee at Tennessee Tech put on a cute skit to start off the morning session on Wednesday, May 15, 2014.  Jack Butler played the flight captain and several members of the committee acted as flight attendants taking volunteers from the audience to help show everyone the "safety procedures" to help everyone get through the conference safely.  It was very funny!  Dr. Phil Oldham, President of Tennessee Tech University and Dr. Claire Stinson, Vice President for Planning and Finance welcomed everyone to the campus and encouraged everyone to learn as much as they could and enjoy their networking opportunities.  Paul Wuebold, SRAPPA's Junior APPA Representative and the newly appointed APPA Vice President of Professional Affairs spoke about how APPA, SRAPPA and TNAPPA are working together and creating some really great training and credentialing opportunities for our members.
The TNAPPA Business Meeting started off with a roll call and a few changes to the bylaws and several new scholarship opportunities were voted on and approved. Everyone enjoyed the variety of classes they could choose from and visited the Business Partners during the breaks. There were lots of prizes given away at the closing session including ipads, TVs, tools, crafts from local artists and even a dog kennel!
The banquet started out with a train excursion to Monterey, TN with wine and hors devours served along the way. A dinner of prime rib and chicken was served at the Leslie Town Centre in downtown Cookeville where Jack Butler thanked his Conference Committee once again for a great conference and then handed the gavel to David Gray to become the new TNAPPA President for 2014-2015.
Thank you Business Partners for your continued support because YOU make this annual event possible.
Lots of pictures were taken by Jim Dillon, TTU and Kelly Ostergrant, MTSU.  Click Here to visit Snapfish where you can view and even order prints from this year's conference!.
Join us NEXT YEAR at Middle Tennessee State University when we celebrate the 27th Annual TNAPPA Conference on May 12-13, 2015.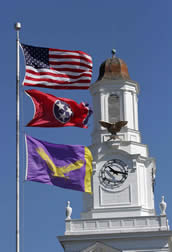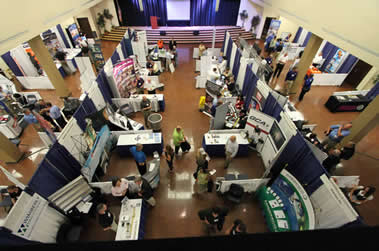 ---
2013 TNAPPA CONFERENCE
University of Tennessee at Martin
May 14-15, 2013
The 25th Annual TNAPPA Conference and Vendor Show was hosted by The University of Tennessee at Martin in Martin Tennessee. Tim Nipp and the entire physical plant crew worked very hard to make this event a huge success.
The two day event started off with a golf tournament which was held at the beautiful Paris Landing State Park.  Attendees enjoyed a Welcome Dinner on the lawn in front of the Boling University Center which included southern fried catfish with all the trimmings!  Dessert was served in the vendor hall giving everyone time to visit with the vendors before a door prize drawing for an iPad. All of the meals were delicious! – catered by B.J. Long, Head Chef with Sodexho.
After an optional morning workout and hearty breakfast, everyone headed to the opening session where students from the Alpha Psi Omega chapter performed a skit showing their appreciation for all workers of physical plants and facilities. Nancy Yarbrough, Interim Vice Chancellor for Finance and Administration was also there to welcome everyone to the conference.  Educational sessions were held throughout the day and there was an optional tour of the Discovery Park in Union City.
The closing session was a "must attend" event with premium door prizes like cordless drills, trimmers, TVs, gift certificates with a grand prize of a $500 gift certificate to Walmart!  A Huge Thank You goes out to the over 30 local businesses who contributed items for this event. The conference concluded with a delicious prime rib dinner and an amazing show by Jason Michaels, The Fortune 500 Magician.
| | |
| --- | --- |
| | |
| Golf Tournament – Paris Landing State Park | Welcome Dinner – Fried Catfish Dinner |
| | |
| Lunch on the patio | Banquet with Illusionist, Jason Michaels |
Click HERE to see all of the photos and order prints.
---
2012 TNAPPA Conference
Tennessee State University
May 14-15, 2012
The 24th Annual TNAPPA Conference and Exhibit Show was hosted by Tennessee State University on May 14-15, 2012 at their Avon Williams Campus in downtown Nashville, Tennessee.  The golf tournament was held at The Governor's Club Golf Course in Brentwood, TN. followed by a welcome dinner held at the TSU Indoor Athletic Facility.  Attendees enjoyed hearing about APPA, SRAPPA and TNAPPA and how we all fit together by David Gray, President of APPA International.  With "Sustaining the Legacy in Nashville" as the theme, there were many educational sessions centered around sustainablility as well as maintenance, custodial services and stormwater initiatives. The conference concluded with a banquet on the historical General Jackson Showboat with a cruise on the Cumberland River.  Everyone enjoyed a delicious dinner and an incredible show featuring music from Tennessee.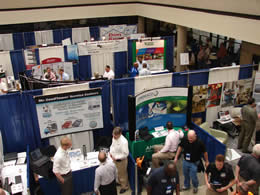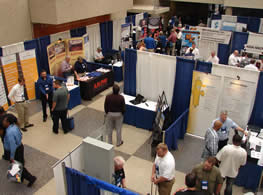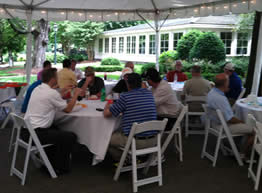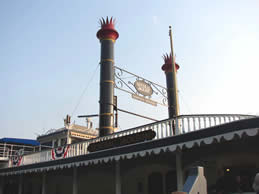 Click HERE to view all photos from this event.
---
2011 TNAPPA Conference
East Tennessee State University, Johnson City, TN
May 16-17, 2011
ETSU hosted the 23rd Annual TNAPPA Conference and Trade Show in May, 2011 focusing on "Best Practices in Facilities Management".  Educational sessions included Health & Safety training, water treatment, energy savings, natural gas purchasing, custodial inspections and much more.  The trade show provided participants with networking opportunities with leading business partners in the field.  Natalie Manor, nationally recognized speaker, entrepreneur, executive coach, and co-author of several books, including Roadmap to Success, was the keynote speaker for the conference.  The conference concluded with a banquet at the Bristol Motor Speedway and included a private tour.  The attendees enjoyed getting to take a few laps around the track.
Click here for a complete list of sponsors.